Shale Play Website - Shale Media Group
*Project in progress*
About:
Shale Media Group created a informational website for each major shale play in the United States. Site visitors can read articles, listen to podcasts, watch videos, and see industry related events
Problem:
Shale Media Group required a site design template to encompass all the different news sources and design system to work for each shale play site. This original website design was completed when I was working as a designer at Shale Media Group. I decided to update the design with a more user focused process. I am currently in the mock up phase of the project.

Current issues and thoughts of past website design:
- Main header; responsive issues
- Main header; title overlay issues with long article titles
- Still contain original content and aggregated? Or one or the other
- Keep upcoming events? Events limiting to region. Is it valuable?
- How to update the feel; serious and knowledgeable
- Should the shale information section be more prominent?
- More information in the footer to legitimize SMG
- Can the topics be organized differently?
- Radio show to podcast
- Ads? Keep? Can the ads fit better into the layout
- Subscription? Free?

Past website design for Shale Media Group's shale play websites.


Research: Similar news sites about shale oil and gas.
Overall, industry related website design is very text heavy and can be dry to user from outside the industry. Some website design had no true hierarchy and was hard to find a starting and ending point for some sections of the page.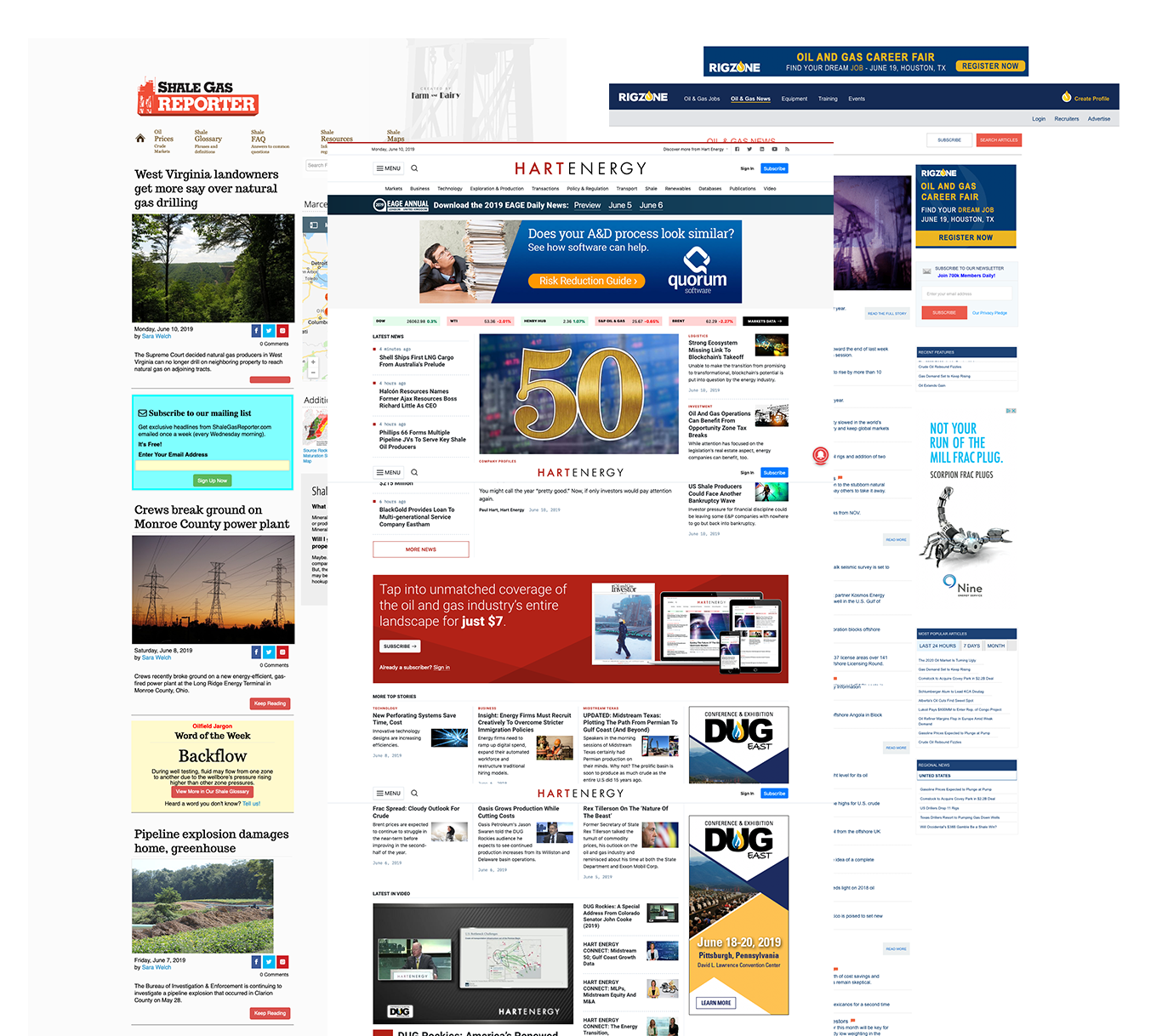 News websites about general news. Overall, more functionality and purpose to the website design. Easier to read and scroll down each webpage.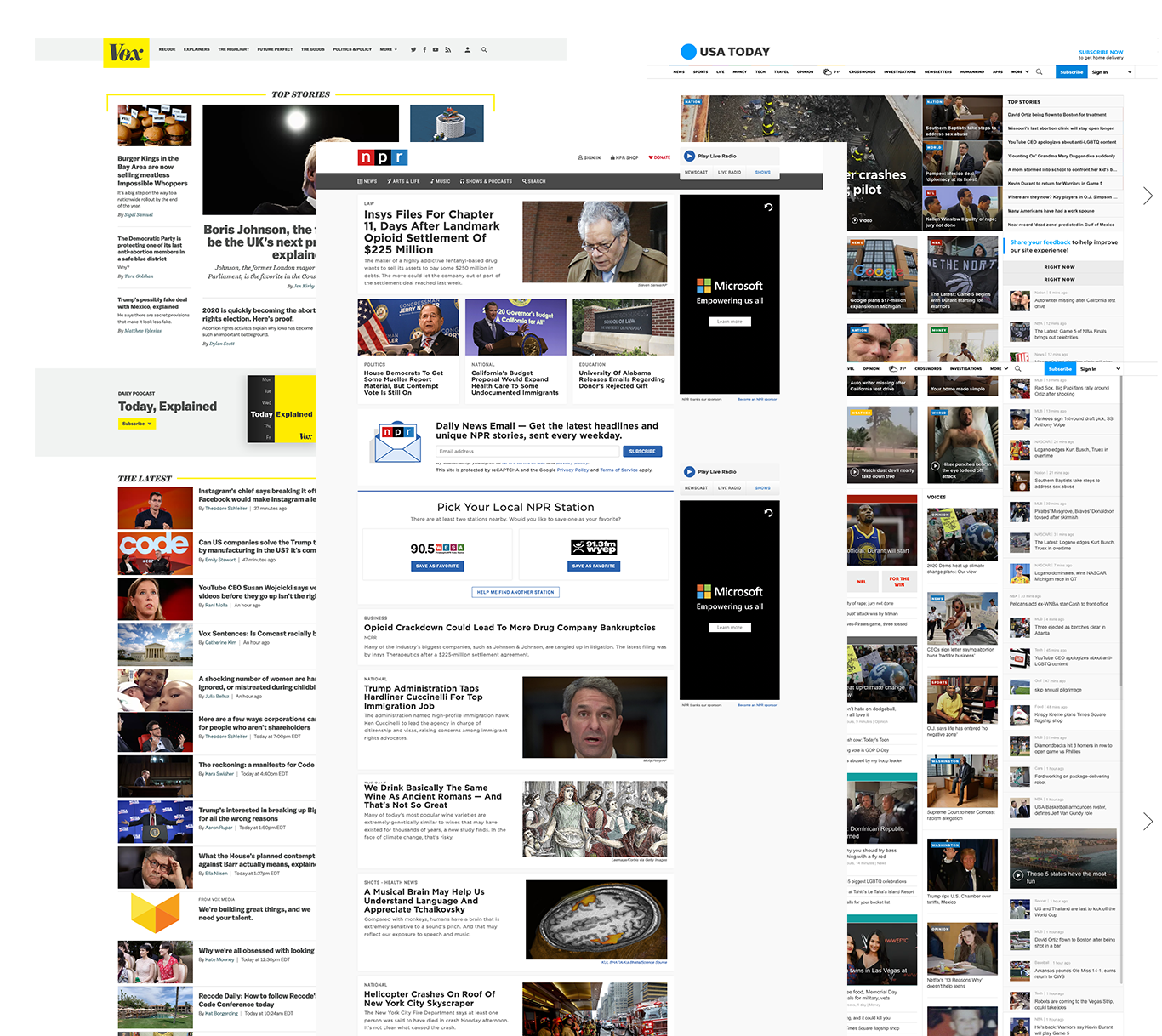 Audience:
- People working in the shale oil and gas industry: rig workers, pipeline, water transportation, landman, drilling companies, construction, chemical, engineers
- People outside the industry but directly affected: landowners, politicians, lawyers, local business owner, real estate
- People outside the industry: concerned citizens, local business owners, schools
- People who want to be knowledgeable about the industry
- People who want to stay up to date on the industry
Function:
Needs to have news and be easy to find different types of news
Users:
Robert - Age 28, Male
- Lives in Southwestern PA in Marcellus shale region
- Served in the Army, continued his education at local university
- Works on rig site for drilling company
Betty - Age 55, Female
- Lives in Southwestern PA in Marcellus shale region
- Owns 200 acres and has been contact by drilling company to drill on her land
- Has a family of three, works as a bank teller
Steven - Age 35, Male
- Originally from North Dakota but offered an engineering position to work in Marcellus shale region
- Moving with his family of four
- College educated, working in the industry for 12 years
Content Map:
Home
- Headline News
- Categories of News
- Learn
- Newsletter Signup
News
 - Political
   - Articles
     - Individual Article
       - Similar Articles
       - Recent
       - Most Popular

 - Environmental
   - Articles
     - Individual Article
       - Similar Articles
       - Recent
       - Most Popular

 - Financial
    - Articles
     - Individual Article
       - Similar Articles
       - Recent
       - Most Popular

 - Technology
    - Articles
     - Individual Article
       - Similar Articles
       - Recent
       - Most Popular

 - Business
    - Articles
     - Individual Article
       - Similar Articles
       - Recent
       - Most Popular

About
- About Shale Media Group
- Social

Learn
- About Marcellus Shale
- Podcast
- Video

Contact
- Contact Form
- Social
- Newsletter Signup